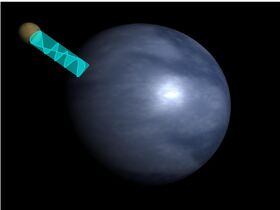 Acqua Succhaire is a planet in the series Simien 10. It is the planet of Magnetosphere and Soundwave.
Inhabitants
Known Imonians
Known Aguasonidans
Continents
Ondasonora
Unwiderstehlich
Solar system, planet and galaxy
Solar system: Alpha Solaranlage
Planet (the planet it is rotating around): Espacio Enorme
Galaxy: Milky Way
Appearence
The planet looks brown.
Inside the planet there are many tunnels that water go through.
Some areas of the planet is filled with water taken from Espacio Enorme.
Ad blocker interference detected!
Wikia is a free-to-use site that makes money from advertising. We have a modified experience for viewers using ad blockers

Wikia is not accessible if you've made further modifications. Remove the custom ad blocker rule(s) and the page will load as expected.