Armodrillo
Comments

0
27,377pages on
this wiki
Armodrillo
General Information
Species
Talpaedan
Home World
Terraexcava
Powers and Abilities
Abilities
Super Strength
Fast Digging
Earth Tremors
Earth Eruption
Jackhammer Arms
Drill Arms
Super Durability
Details
Armodrillo is the Codon Stream's sample of one of the species from the Andromeda Galaxy.
Appearance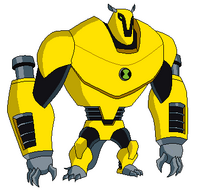 Armodrillo is an armored robotic armadillo like alien. His head is similar to old Roman head protectors with two horns/ears on it. Armodrillo has a gray tail and two jack hammer like hands, making him looking more like a digging robot.
Albedo's version in Omniverse has red armor instead of yellow and the Ultimatrix symbol is on his chest.
In Ben 10: Protector of the Omniverse, he looks like his Omniverse self, but the metal bolts are gone, and his ears are shorter.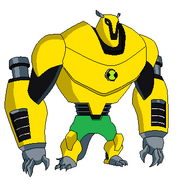 In Ben 10: Heroics Unleashed, he looks like his Ultimate Alien appearance, but he has green shorts.
Fake Original Series
In the original series, Armodrillo's Omnitrix symbol is located on his shoulder, which is now grey. His arms are also yellow and his body also has the pattern of Ben's shirt.
Abilities
 Fast Digging, Super Strength, Tremors, Earth Eruption, Jackhammer Arms Drill Arms Super Durability
In Noah 10, he has terrakinesis, meaning he can create structures out of rock and earth such as rock fists, shields, and even moderately control mud and dirt.
Ben 10: Protector of the Omniverse
He appears in The Hero and the Huntsman. He appears in Play It Back Again, being used to fight Sweet-Eels Sparklefunk. Due to the time loop, he appears four times.
Ben 10: Heroics Unleashed
He appears in Stress, Stress and More Stress as an unintentional transformation. In Can't Investigate This, he fights Fragium as Terroranchula.
Ben 10: Super Omniverse
He has his Ultimate Alien appearance. He first reappears in On a Roll (Super Omniverse) to locate Skate-R's lair.
Ben 10: Omnitrix Unlimited
He has his Omniverse appearance. He first appears in Anger Management to fight Tyrannopede. In F.A.I.L., he fights Zombozo.
Ben 10: Ultimate Alien
Appearances
Albedo 10
Appearances
Kurt 10
Appearances
Season 2
Season 3
Ben 10: Gigatrix Chronicles
He reappears in Ben 10: Gigatrix Chronicles, and he even has a Giga form. He first appeared in Down Under.
Finn 10: Fusion
In Finn 10: Fusion, Armodrillo lost the vents in his arms and now has three small fingers at the end of his tail.
Tommy 12
Armadrillo first appeared when Dr. Thesame fired his laser at Bittoke.
Ben 10: The Story of Hex
In Ben 10: The Story of Hex, Armodrillo will somehow already be in the Omnitrix. Ben will accidentally use him at some point in an attempt to defeat Hex in a fight otherwise not seen in Ben 10: Alien Universe.
Armodrillo was unlocked when the Omnitrix scanned Andreas in Andreas' Fault (John Smith 10).
Appearances
Armodrillo appears after being split by the fusion alien Articdrillo.
Appearances
Ben 10: Dimensional Warriors
Like the other aliens, Armodrillo has taken a darker tone.
Appearances
Gallery