Atomix is a alien in the series Simien 10. He is one of Simien's aliens. He appeared only in the episode "Home Sweet Home". He is Simien's most powerful alien.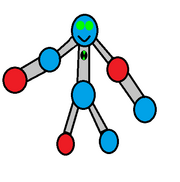 Powers
Controlling Atoms. This power gives him every power except of time-based powers.
Weaknesses
He is very small
Is a very "fragile" alien, he can split into smaller atoms even by falling on the floor
He can't control his own atoms
If he is slammed in to hard things he will split into smaller atoms. Because he can't control his own atoms, he needs to use other atoms around him to rebuild him
Species and Planet
Species: Quark
Planet: Chembe
How he was unlocked
Atomix was unlocked by Zynon since only Zynon knows the the way to unlock him. He was unlocked because even Gas planet couldn't defeat Zilann.
After his first transformation, the Polytrix made Simien a different alien when he selected Atomix in the sequel series.
Appearence
His body is many big blue balls connected together by rods like molecules
He is very small, about 10 centimeters
Appearances
Simien 10
"Home Sweet Home Part 2" (only appearance)
Ben 10: Unlimited Power
Ad blocker interference detected!
Wikia is a free-to-use site that makes money from advertising. We have a modified experience for viewers using ad blockers

Wikia is not accessible if you've made further modifications. Remove the custom ad blocker rule(s) and the page will load as expected.