Ball Weevil
General Information
Body
Bug
Powers and Abilities
Details
Ball Weevil is a new alien that will appear in Ben 10: Omniverse Good VS Evil.
Information
Not much is known of Ball Weevil except that he is Bens that he is small but very powerful.
Powers/Abilities
ball weevil is able to shoot ball out of his mouth that absorb stuff then explodes.
Weakness
Being small gives Ball Weevil a major disadvantage in battle
Ben 10: Omniverse Good VS Evil
Appearances
ball weevil is a bug like alien thats yellow with 4 legs and also wears the omnitrix symbol on his chest.
Trivia
He is Bens smallest alien form.
Gallery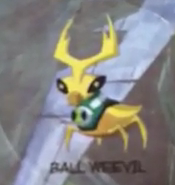 Ad blocker interference detected!
Wikia is a free-to-use site that makes money from advertising. We have a modified experience for viewers using ad blockers

Wikia is not accessible if you've made further modifications. Remove the custom ad blocker rule(s) and the page will load as expected.