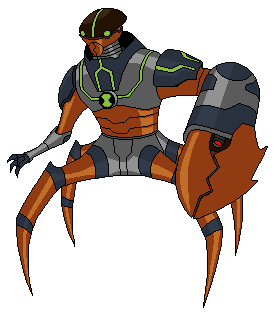 BenKraab its alien of the Planet Piscciss and species Piscciss Premann. He also appears in the series Quatrus 10: Time Continuum Task Force as an alien in the Aquitianmatrix and is called Clawboy.
Abilities
Can control Original Kraab
Can shoot rays
His Pincer
Enhanced Strength
enhanced durability and shooting gas
Weakness
He's very slow
Is vulnerable
Omnitrix
Appearances
He will appear.
Ben 10: Hero Defense
He is scheduled to appear in the season 2 finale.
Gallery
Ad blocker interference detected!
Wikia is a free-to-use site that makes money from advertising. We have a modified experience for viewers using ad blockers

Wikia is not accessible if you've made further modifications. Remove the custom ad blocker rule(s) and the page will load as expected.