Use this page to nominate and vote for the featured Episode, which will be listed on the home page. Use the button below to nominate an episode from a series.
Note: For help with the layout for the nomination, go here.
Rules
Episode Requirements
Previous Winners
2017
TBA
---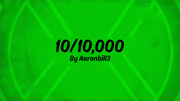 Created and nominated by
Aaron
For
It's the second day of October and this hadn't been updated, so I thought I'd jumpstart it. (The Diamond Man)

I am

the

One-Eyed King.

00:39, October 3, 2017 (UTC)
When the fanmade take on the reboot is better in a couple of episodes (or arguably just this one tbh) than the actual reboot is in a whole season. Either Aaron's that good or the Reboot's that bad... or both.

I don't like catapults.

13:45, October 3, 2017 (UTC)
Against
Comments
Ad blocker interference detected!
Wikia is a free-to-use site that makes money from advertising. We have a modified experience for viewers using ad blockers

Wikia is not accessible if you've made further modifications. Remove the custom ad blocker rule(s) and the page will load as expected.