Ben 10 Omniyears (Series)
Comments

7
31,947pages on
this wiki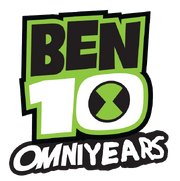 THIS SERIES IS FOR DELETION!!!!!!
This is a series by User:The Ironman. It is set in Dimension 10. Ben is 16 and he is using the Omnitrix for the first time in 5 years. Ben is now a hero again and he teamed up with a Revonnahgander named Rook to become an unbeatable force. Ben is ready to kick butt anywhere, anytime! Will Ben be able take on with the new villians and the old villans together?
Fan List
Ps : please put your signature here if you like Ben 10 Omniyears like mine or in your style-
Series
Ben 10 Omniyears
Teen Titans : Life with the titans                    ABOUT TO RELEASE!
The Teen Titans : Revenges                         Coming soon!
Ben 10 Omniyears : Hero generation             Coming soon!
Ben 10 Omniyears : Furious force                 Coming soon!
Writers
(if you wanna join, go to SIGN IN and sign up.You'll get a reply in 1-3 weeks.)
Theme song
Ben10!
He's a teen and he want's to have fun,
but when you need a super hero,
he get's the job done.
Ben 10!
With the watch that he wears an his wrist,
he can change his form and make a butt-kicking list.
When trouble's here and there,
he beats them,make them fair.
Ben 10!
When lives are on the line,
it's heroes time.
Ben 10!
Plans
Highbreeds shall return.
Aliens
Predators
Villians
Episodes
Movies
The Teen Titans Go!