Bloxx
General Information
Body
Lego/Gorilla
Powers and Abilities
Abilities
Elasticity

Shapeshifting

Details
First Appearance
Dr Animos Mutation
Bloxx is a new alien in Ben 10: Omniverse Good VS Evil.
Information
Bloxx is a new alien form that appears in the new series he has great strength and elasticity with the ability to shapshift his solid structure.
Powers/Abilities
Shapeshifting: He can shapeshift his body into various weapons.
Elasticity: He can stretch very far.
Enhanced Strength: He is shown to have great strength.
Weakness
Bloxx can break easy as being made of parts.
Ben 10: Omniverse Good VS Evil
Appearance
Trivia
Bloxx is one of Bens brand new favourites.
Gallery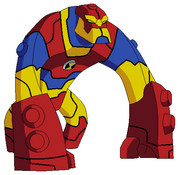 Ad blocker interference detected!
Wikia is a free-to-use site that makes money from advertising. We have a modified experience for viewers using ad blockers

Wikia is not accessible if you've made further modifications. Remove the custom ad blocker rule(s) and the page will load as expected.