This page is preserved. A better version can be found here.
Bonecrusher is a alien in the series Simien 10. He is one of Simien's aliens. Because of his ghost/zombie powers, Vorkus hates when Simien turns into him. He escaped the Polytrix on Halloween, because it is a
Bonecrusher
General Information
Species
Esqueletan
Home World
Espiritu (S10)
Body
Skeleton-like
Powers and Abilities
Abilities
Invisibility, Super Strength, Controlling the dead, Regeneration
Details
Esqueletan holiday.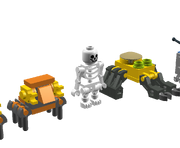 Powers
Becoming invisible
Super strengh
Regenerating (every body part that is cut off will start to walk/hover back to it's place)
Reviving the dead
Hovering
Weaknesses
If the body part that was cut off would have been too far from Bonecrusher, it will be hard to regenerate it back
Species and Planet
Species: Esqueletan
Planet: Espiritu (actually a moon)
Appearence
He looks like a human skeleton
Appearences
Ad blocker interference detected!
Wikia is a free-to-use site that makes money from advertising. We have a modified experience for viewers using ad blockers

Wikia is not accessible if you've made further modifications. Remove the custom ad blocker rule(s) and the page will load as expected.