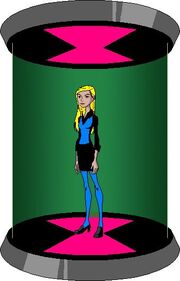 Courtney

Age

16

Species

Human

Planet

Earth

Height

5'6

Powers

Omegatrix

First Appearance

Snap, Crackle, Omnitrix!

Ally or Villain

Good
Courtney has the Prototype Omnitrix. She looks very similar to Gwen. Unlike Ben, she only has the original aliens. She appears again Ben 10, BC as Four Arms. She has a secret crush on Ben, though. Later in Season 4, is it revealed that she goes to school with Ben. After her Omnitrix blows up with Ben's since it was linked together, she gets a replacement like Ben. Her new Omnitrix is called the Omegatrix and is not linked to Ben's Omnimatrix.
Ultimate Team Tennyson
Courtney appears often in Ben 10 Ultimate Team Tennyson. When Ben gets help from his team, He usually calls on Courtney, too. Her Omnimatrix has become Ultimate, with Ultimate forms.
Future
She is a main character in Ben 10,000: How It All Began. She is on Ben's team, along with Max, Ben and Gwendolyn. Her Omegatrix is just like Ben's. It extends up her arm.
Later in Ken 10, It is revealed she has a daughter named Tara. It is unknown if she has a Husband.
New Omnitrix
In Ben 10: Full Power, Darkstar destroyed Courtney's Omnitrix.
Trivia
She has long blonde hair, blue eyes, and she is 13.
She is actually revealed to be 16 in Not so Happy Birthday or Sweet 16.
Ad blocker interference detected!
Wikia is a free-to-use site that makes money from advertising. We have a modified experience for viewers using ad blockers

Wikia is not accessible if you've made further modifications. Remove the custom ad blocker rule(s) and the page will load as expected.