Forever Knights (Franchise)
Comments

3
24,069pages on
this wiki
Forever Knights is a franchise of series that focus on the forever knights and their origins. All names of series are written with: Knight/s of something. The Series are written by Forever King Sklei, Sci , Cartoon, Jack.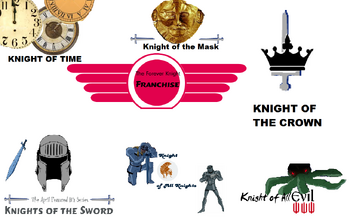 Legends of the Diagon - First Generation of Forever Knight Franchise
---
Summary
Focuses on the many fights against Diagon. it all leads up to the knights movie which focuses on consequences of his death (KOTS) regarding his origin (KOAE) with the continuation of the legacy of George (KOAK) with a fight with all knights including Diagon against the threat which loomed because of Diagon's death.
---
Release Time 
KOTS - process of rebootion
KOAK - started on March 2012 and ended on October 2012
KOAE - process of rebootion
---
Series
Knights of the Sword - The final fight against Diagon
Knight of All Knights - Sir George's origin story
Knight of All Evil - Diagon's origin story
Movie - Knights (Unknown)
---
Legacy of the Knights - Second Generation of Forever Knights Franchise
---
Summary
Focuses on the forever knights descend to evil as they are in the Ben 10 series, it includes series about them becoming evil (KOTM) about TBA (KOT) and about how years after KOTS the knights once again return to evil and how a leader is needed (KOTC) leading up to the movie finale Rullers which the plot of is TBA.
---
Release Time
KOTC - will start on February 2013
KOTM - will start on June 2013
KOT - will start on November 2012
---
Series
Knight of the Crown - Battle for the forever knight throne that determines the fate of mankind
Knight of the Mask - Enoch's Origin Story
Knights of Time - Time travel knight series.
Movie - Leaders (Around end 2013) (Will also serve as KOTC finale and ending to the franchise)
Forever Knights (Franchise)
Photos
Add an Image
27,544
images on this wiki
See all photos >