This page is preserved, a better version can be found here.
Gas planet is an alien in the series Simien 10. He is one of Simien's aliens. He is the biggest alien Simien has. He was unlocked in Secrets Of the Polytrix to defeat Zyrokks who got his humungous mechanical suit. His only appearence in the series was when he fought Zilann.
Gas Planet
General Information
Species
Astrocollosan
Home World
Astrocollosus
Body
Spheric
Powers and Abilities
Abilities
Super strength, gravitizing to him, shooting sharp disks
Details
Powers
Gigantic, the size of Waybig
Super Strength
Shooting slicing disks from his hands
Gravitizing things to him
Indestructible because he is made out of gas
Weaknesses
He is very light, he was even able to be thrown by Zilann who was twice smaller than him
Species and planet
Species: Astrocollosan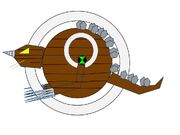 Planet: Astrocollosus
Appearence
His body is a ball
Instead of legs he has a disk around his body he rolls on, making him look like Saturn on its side
His head is on the disk in his chest (the head stays in the same place)
Appearances
Dan 10
In Dan 10, Dan 10,000 unlocked it for Dan. He used it agianst Eon when he absorbed the Codon Stream.