This is a video game where Rex chases Van Kleiss across various worlds in order to stop him from taking over. In the process, he comes across Ben again and they end up getting their powers mixed up. On their way, they explore various crosstimes, while trying to foil the evil plans of Van Kleiss and Vilgax.
Plot
For the full story, go to
genrexfanfic.wikia.com/wiki/Gen_Ben_and_Rex_10:_Heroes_Reunited.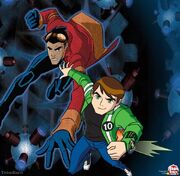 Ad blocker interference detected!
Wikia is a free-to-use site that makes money from advertising. We have a modified experience for viewers using ad blockers

Wikia is not accessible if you've made further modifications. Remove the custom ad blocker rule(s) and the page will load as expected.