Geodroids are villains in the series Simien 10. They are Zyrokks's second most used drones.
Powers
Drilling by combining their legs into a drill shape and spinning their legs
Lasers
Torpedos
Upgrades
(This will be put in as the series continues)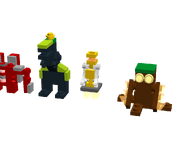 Weaknesses
Electricity
Water
Vulnerable to magnetic force
Appearence
They are yellow android robots
They have four legs
Ad blocker interference detected!
Wikia is a free-to-use site that makes money from advertising. We have a modified experience for viewers using ad blockers

Wikia is not accessible if you've made further modifications. Remove the custom ad blocker rule(s) and the page will load as expected.