Gwen Tennyson is the daughter of Ben Tennyson and Kai Green. She is somewhat adventrous and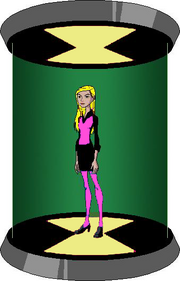 likes to tease Ken (which revolves as Ben teased Gwen). Gwen wears black jeans and likes to cycle which Ken hates. Ken and Gwen get along each other but not with Devin Levin. Gwen Tennyson got the Omnitrix which she called it Ectotrix in
Dawn of Gwen 10
. Gwen had a crush on a boy called Larry Gordon.
Aliens in Her Ectotrix
Chromastone
Big Chill
Nanomech
Buzzshock
Gwenmummy
Gwenvicktor
Gwenwolf
Blocked
Ghostfreak
Ad blocker interference detected!
Wikia is a free-to-use site that makes money from advertising. We have a modified experience for viewers using ad blockers

Wikia is not accessible if you've made further modifications. Remove the custom ad blocker rule(s) and the page will load as expected.