Hean 10 comics are listed down here every 1 to 2 weeks:
Original Version Comics
#1 Grounded by 6jackb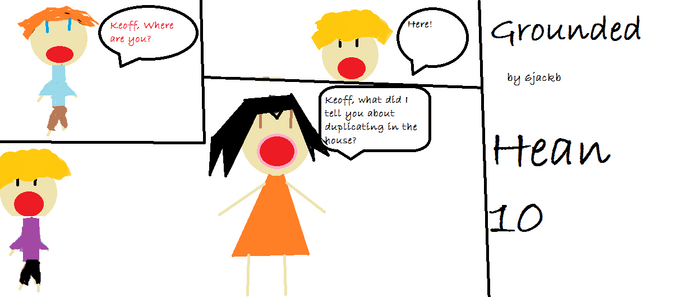 Dialogue:
Hean: Keoff, where are you?
Keoff: Here!
Mom: Keoff, what did I say about duplicating in the house?
#2 Simple Trick by Cartoon44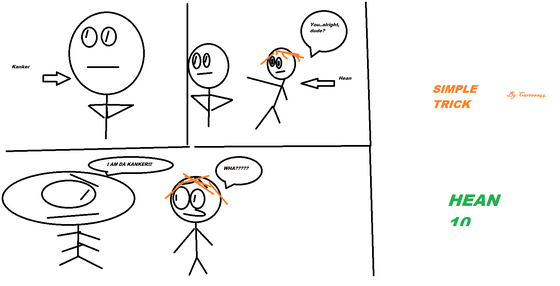 Dialouge:
Hean: You alright, dude?
(Kanker turns around)
Kanker: I AM DA KANKER!!!
Hean: Wha???????
# 3 Ghost by 6jackb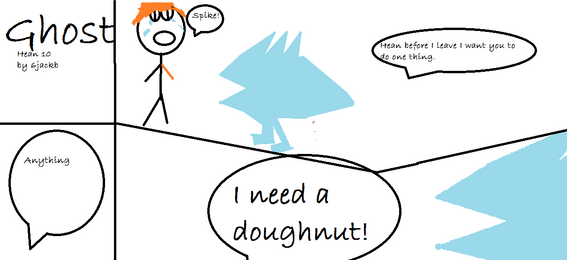 Dialouge:
Hean: Spike!
Spike: Hean, before I leave I want you to do one thing.
Hean: Anything!
Spike: I NEED A DOUGHNUT!
Dialouge:
Hean: ZZZZZ.....
POOF!
Hean: Super-Human! Oops. Sorry mom.
# 5 No Pizza! by Sci100

Dialouge:
Kanker: Did you bring the pizza? I'M HUNGRY!
Minion: Um..Ah...there was no pizza.
Kanker: NOOOO PIZZZZZZZZZZAAAAAAAAAAA! YOU DIE!!!!!!!!!!!!!!!!!!!!!!!!!!!!!!!!
#6 Learn to Swim by Jack
Dialouge:
Hean: So, Keoff wanna swim?
Keoff: Hean, I might as well tell you now, I can't swim. Even though I did it a few episodes ago.
Hean: (Meme face) LOL!
#7 Kanker goes to Walmart by Sci100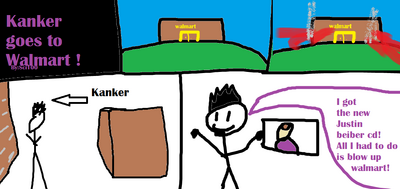 ( Walmart blows up )
Kanker: I got the new Justin Beiber CD! All I had to do is blow up Walmart!
#8 Highwood on Fire by Sci100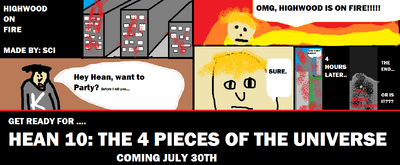 ( Buildings in Highwood are on fire )
Hean: OMG, Highwood is on fire!!!!
Kanker: Hey Hean, want to party? Before I kill you....
Hean: Sure
( Highwood is burning while Kanker and Hean are partying )
Hean: BEST PARTY EVER!
( 4 HOURS LATER.... Highwood is destroyed, and Hean's dead body is on the ruins )
THE END... OR IS IT? GET READY FOR.... HEAN 10: THE 4 PIECES OF THE UNIVERSE - COMING JULY 30TH.
Ad blocker interference detected!
Wikia is a free-to-use site that makes money from advertising. We have a modified experience for viewers using ad blockers

Wikia is not accessible if you've made further modifications. Remove the custom ad blocker rule(s) and the page will load as expected.