Lyon is a nine year old boy who comes across the Oppositrix, which was made by Highbreed. The Oppositrix has opposites of all aliens. You can see the opposite aliens in the Oppositrix article. The Oppostrix has a blue hourglass on it.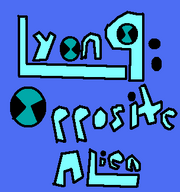 Lyon 9: Seventeenth Opposite
This is where Lyon becomes 17 and gets new aliens.
Ad blocker interference detected!
Wikia is a free-to-use site that makes money from advertising. We have a modified experience for viewers using ad blockers

Wikia is not accessible if you've made further modifications. Remove the custom ad blocker rule(s) and the page will load as expected.