Ad blocker interference detected!
Wikia is a free-to-use site that makes money from advertising. We have a modified experience for viewers using ad blockers

Wikia is not accessible if you've made further modifications. Remove the custom ad blocker rule(s) and the page will load as expected.
Neb 10
is the opposite of Ben 10, Ben 10: Alien Force, and Ben 10: Ultimate Alien. Each episode is an opposite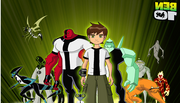 version of a regular one. Neb has the
Xirtinmo
with all the aliens and ultimate aliens. Neb's team besides Retae Staf and Enivmitlu were originally villains, and the villains besides Ultimvine and Fast Eater were originally heroes, but they decided to switch roles.
Characters
Villains
Season 1
1

| | | |
| --- | --- | --- |
| Episode | Description | Opposite of... |
| And There Were 46 | Neb Nosynnet finds the Xirtinmo and uses it to battle Xagliv. | And Then There Were 10 |
| Washington C.D. | Dr. Onima plans to control CD-like aliens to turn Thrae into a giant CD that plays his favorite music and lets him play his favorite games. | Washington B.C. |
| The Crackin' | A flying egg terroizes anything in the sky. | The Krakken |
| Tourist's Rap | A package sent to Doowlleb contains a ball of tape that releases a bunch of Ttahwagems. | Tourist Trap |
| | | |
| | | |
| | | |
| | | |
| | | |
| | | |
| | | |
| | | |
| | | |
| | | |
| | | |
| | | |
| | | |
| | | |
| | | |
| | | |
| | | |
| | | |
| | | |
| | | |
| | | |
| | | |
| | | |
| | | |
| | | |
| | | |
| | | |
| | | |
| | | |
| | | |
| | | |
| | | |
| | | |
| | | |
| | | |
| | | |
| | | |
| | | |
| | | |
| | | |
| | | |
| | | |
| | | |
| | | |
| | | |