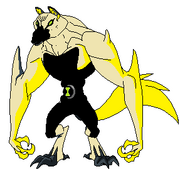 Sandstorm Wolf is an alien in tom 10 .
Appearance
He is a big biped wolf with yellow fur
Abilities
1.strength.
2.can emit sonic howls.
3.speed and agility.
4.can create sandstorms(while in a desert) and control sand.
weakness
1.he still has less strength to four arms.
2.fire may harm him also.
3.ultraviolet may blind him.
4.on slimy or wet lands may stop his speed.
Ad blocker interference detected!
Wikia is a free-to-use site that makes money from advertising. We have a modified experience for viewers using ad blockers

Wikia is not accessible if you've made further modifications. Remove the custom ad blocker rule(s) and the page will load as expected.