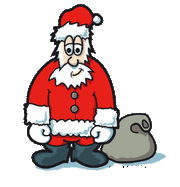 Santa is a new alien unlocked in The INvasion Before Christmas Part2 when Santa puts himself into the omnitrix when some of his beard falls on the omnitrix.
Powers
He has the power to call elves
To shoot unlimited presents and bows
Can call his sleigh and reindeer
Ultimatrix Unleashed
He will appear again in Ultimatrix Unleashed.
Ad blocker interference detected!
Wikia is a free-to-use site that makes money from advertising. We have a modified experience for viewers using ad blockers

Wikia is not accessible if you've made further modifications. Remove the custom ad blocker rule(s) and the page will load as expected.