Skullface

Species

Boneheads

Home Planet

Skullavailla
Skullface
is a skeleton come alive. It came alive by Charmcaster in Whatever it was, I didin't do it!. Then it touched the watch and Ben got it's DNA.
Powers
Death Tormentor's Powers are Very Powerful. He can control Spirts. He brings them up from the Ground, and Makes Him Attack The Enemy.
Weakness
His weakness is fire. He can get melted by fire.
Ultimate Team Tennyson
He was seen when Ben was scrolling through the Omnitrix, but still yet has to been seen.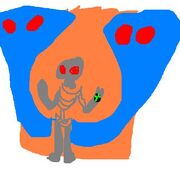 Ad blocker interference detected!
Wikia is a free-to-use site that makes money from advertising. We have a modified experience for viewers using ad blockers

Wikia is not accessible if you've made further modifications. Remove the custom ad blocker rule(s) and the page will load as expected.