SmoothieMan (Alien) has been a stub for a while!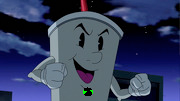 SmoothieMan was unlocked in the episode SmoothieSailing when the Mr.Smoothie sign fell on the watch while it had some smoothie on it.
Powers
The power to shoot smoothie out of its hands!(He times out quicker)
He can shoot Smoothie out of the straw. He uses his straw as a sword sometimes.