Snow Bear
Comment

1
24,104pages on
this wiki
Snow Bear
is a alien transformation from the show,
Brandon 10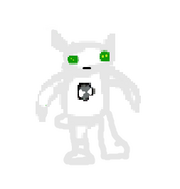 . He will also appear in
Question for Ben 10
and
Brian 10
.
Apperance
Edit
Snow Bear resembles a small white polar bear.
Powers and Abilities
Edit
He has the Ability to produce snow and ice breath. His white fur has a camoflouging ability with snow and ice as he blends in with his elements and protects him from the cold. He also carries Bear like abilites such as using his claws.