is a series by Figy and Brian (yes, AGAIN!)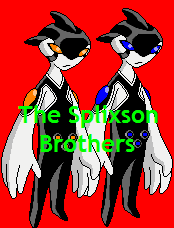 Plot
Two Splixson Brothers go to avenge their father's death and mother's disappearance by defeating evil, especially the creature that killed his dad. This happens during the events of a war on Hathor, making half the population either dead or captured and the other half either missing or hiding, besides Figy and Brian.
Episodes
TBA
Characters
Villains
Equipment
A Sword Holder on their back that is like an X
Swords
Grappling Hook-Blaster
Fan List
Gallery
Ad blocker interference detected!
Wikia is a free-to-use site that makes money from advertising. We have a modified experience for viewers using ad blockers

Wikia is not accessible if you've made further modifications. Remove the custom ad blocker rule(s) and the page will load as expected.