This page is preserved. A better version can be found here.
Tongue Twister is a alien in the series Simien 10. He is one of Simien's aliens.
Tongue Twister
General Information
Species
Lucertolan
Home World
Selva
Body
Chameleon-like
Powers and Abilities
Abilities
Agility, turning invisible, sticking to walls
Details
Powers
Changing colors
Super agility
Claws
Becoming invisible
Sticking to walls
Shooting his strechy and sticky tongue
Weaknesses
Because he is a lizard-type alien, he likes to eat bugs which can distract him from what that he is doing
Sickness weakness
In the episode "Sick of Plants", Simien gets sick and turns into Tongue Twister. When sick, Tongue Twister gets a weakness:
Every time Tongue Twister sneezed, his color was changed randomly. That was a problem when Tongue Twister wanted to become invisible.
Species and Planet
Species: Lucertolan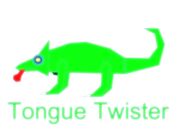 Contident: Ulimy
Planet: Selva
Appearence
He looks like a big chameleon
He is the size of a tiger
His tongue is always out of his mouth, making him talk with a lisp
He walks on four legs
Quotes
Simien: (turns into Tongue Twister) Tongue Twithter!
Allen: Did you call the alien Tongue Twithter or does this alien have a lisp?

Tongue Twister: I'm pretty thure thith is the lithp.

Allen:Yep, definitely the lisp
Appearences
"Sick of Plants" (sick version)
"The Day has Come" (alternate present)