NOTE: I am not that active anymore nowadays. The reason is, I kinda got bored of BTFF. I will still visit though, just not regularly.
This user is an admin. Here are the others.
"
You are the boy with a white hat.
"

–Newbie, about me on chat.
"
Me: I rather play something on my laptop than wasting 2 hours of my evening in school.
Tyran: WIN.
"

–Tyran commenting about my speech, XD.
"
I see now that the circumstances of one's birth are irrelevant. It is what you do with the gift of life that determines who you are.
"

–Mewtwo
"
I made it to Shell City, and I beat the cyclops, and I rode the Hasselhoff, and I brought the crown back! So yeah I'm a kid, and I'm also a goofball, and a wingnut, and a knuckle head McSpazagtron! But most of all, I'm...I'm...I'm...I'M A GOOFY GOOBER!
"

–SpongeBob

Hello there. I'm Brian (duh), an admin. Obviously, I like Ben 10, and a bunch of other shows that I can't even keep track of them. I am an anime fan, but I'm not really an otaku. I'm also the first one who get the "Omnitrix Wielder of Activity" badge and the second one who get the "Hit Series" badge.
| | |
| --- | --- |
| | This user is an administrator (Proved) |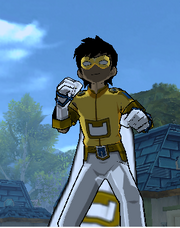 I got my own team for RP, check it out: Team Brian >:D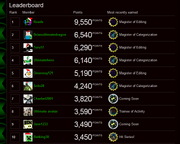 That's it. XD
Games I play (with my usernames!)
Edit
FusionFall - Blaster Stellarhand (I quited :P)
Minecraft - AwesomeSwampy
Pokemon Lake/Deluge - UltBrian
Kingdom of Loathing - UltBrian

There's still more. I just wish I could remember them all...
My Series
Edit
Question For Ben 10 - A talk show, on hiatus

Rath Fight - A comic, on hiatus too

Brian 10 - A series like everyone else's series (-_-) New!

Ben 10: De-Evolution - Co-Created by me and ET

Mad 10 - Co-Created by me and Redo

Ben 10: Alien Team - Adopted from Omi. Will start sometime.

Userama (Series) - Based on my old movie with a same name that was cancelled because lack of ideas.

Ben 10: Stupidity Force - Co-written with Tyran and Omi.

Split Soul - Co-written with Tyran.

Alienbusters - Upcoming series by ME <3

Regular 10 - Co-written with Rob, even though I don't watch Regular Show :P

Unnamed New Series - 3 kids found 3 Omnitrixes in their school while exploring it, they each grabbed one and put it on. They use it for fun and become extremely popular in school, but someone wants the Trixes so he can rule the world. Can the 3 kids finds out who and stops him?
Leaked Stuff: One of the main character name is Jake.

The Adventures Of Clocky - Co-written by me, Solo, and Chrono.

Technol and Goopy - Co-written with Solo

Murder Palooza - Co-written with Figy

Snail 10 - Same as Murder Palooza.

Adventure Nanite 10 - Co-written with FIgy, too.
Friends on this wiki
Edit

Let me know if I forgot you!
All spammer and vandals.
Opinions on series
Edit
Signature
Edit 09:19, February 24, 2012 (UTC)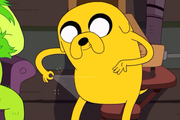 Rarest Living Gem in the Galaxy
Edit
These are the edits I got that badges for!
42,000th
44,000th
45,000th (I got them in a row two times XD)
52,000th
61,000th
63,000th
70, 000th
73, 000th
74, 000th
90, 000th
106, 000th
120, 000th
129, 000th
135, 000th
161, 000th
168, 000th
186, 000th
RANDØM ZTUFF
Edit
"
And so it was decided, that once a year when the weather got chilly, that Finn, Jake, The Ice King, Beemo, Princess Bubblegum, Marceline the Vampire Queen, Cinnamon Bun, Peppermint Butler, Phil, a Candy Cane Man, one of the Gumdrop Girls, Lady Rainicorn, Lumpy Space Princess, that guy, the other guy, a pig, Tree Trunks, a two-headed duck, the old crazy Tart Toter, the Punch Bowl, a booger and Gunther would get together while wearing really big sweaters and watch videos on the floor next to a fire, to celebrate the day that Finn and Jake had a fleeting moment of empathy for the biggest weirdo in Ooo. It was a miracle. Good night.
"

–Shelby, Holly Jolly Secrets
Jake the dog and Finn the human. *evil laughs*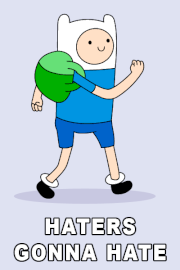 I LOVE 웃 웃웃웃웃웃웃웃웃웃웃웃웃웃웃웃웃웃웃웃웃웃웃웃웃 FTW

ಠ_ಠ WHAT THE HECK

∞ wイキudg乇, ノ'ᄊ w乇ノ尺d!

ʎᄂƨцөıяσƨ

Ŧย๔ﻮє

ⒷⓊⓊⓊⓊⓊⓊⒷⓁⒺⓈ

"""̿ ̿ ̿ ̿ ̿'̿'̵͇̿̿з=(•̪●)=ε/̵͇̿̿/̿ ̿ ̿ ̿ ̿'""

Yeah, this is probably one of the longest userpage ever.
BRIAN LOVE THIS.
Brian really like this. In fact, he love it.
You are about to receive a pod with over 9000% awesomeness inside.
DO NOT UNDERESTIMATE BRIAN
Brian does not approve of this. In fact, he hated it.
You are about to get PWNed. PWNZ. Bye bye.