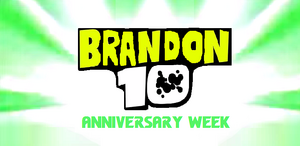 Ello everyone! Brandon here and it's been a while since I did a blog. But it's that time again for my anniversary here on the wiki. Today makes it my sixth year here and actually saying that out loud makes it sound so much older.
But you may or may not be asking: since it's your anniversary just for today, why is it called Brandon 10 Week? Well, I'll tell you... even if you didn't ask. I joined on the 9th but created my series page on the 15th. So within that week, I'll be celebrating both my anniversary on the wiki and the anniversary of my series, Brandon 10.
Anyways, here's how I have the week planned out:
Sunday (9th)
Monday (10th)
Tuesday (11th)
Brandon 10: Ultimate Hero Mini-Episodes
Wedensday (12th)
Thursday (13th)
Behind the Scenes Artwork
Friday (14th)
Saturday (15th)
Awesome poster made in tribute to the series
---
I just want to thank everyone who helped me get to where I am. I know it sounds like the same speech every year but it's true. Looking back on what I made and the things I did here, it shows a lot of progress and that progress would probably not have happened without the support from you, the community. So here's to more years to come on the wiki and even more progress.
Happy Anniversary, Brandon 10!
It's time for an Ultimate Hero! 01:32, April 10, 2017 (UTC)
Ad blocker interference detected!
Wikia is a free-to-use site that makes money from advertising. We have a modified experience for viewers using ad blockers

Wikia is not accessible if you've made further modifications. Remove the custom ad blocker rule(s) and the page will load as expected.