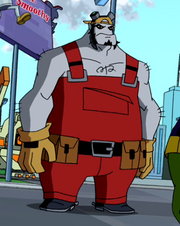 Octagon
and
Rhomboid
Vreedle are intergalactic repo-men and can be summed up best in one term "Space Hillbillies" Octagon is the older, and in his humble opinion, much wiser of the two siblings. Octagon is the brains of the operations while his little but larger brother, Rhomboid "Boid" Vreedle, is definitely the muscle. Not ones to turn down an opportunity to "blow stuff up real good," the Vreedles will take on any dastardly job in the galaxy for
the right price.
"The Vreedle Brothers are a pair of cloned repo men. Octagon is the older and smarter of the two Vreedle Brothers. He generally takes the lead in any situation, and is (slightly) less likely to blow things up as at first resort. (But it's usually a close second.) Rhomboid is the younger, less-intelligent of the brothers. He's slower (psysically and mentally) than Octagon, but he's a lot stronger and harder to defeat." 
Appearances
The Vreedle Brothers appear as Turks working for Shinra.
Appearances
Ad blocker interference detected!
Wikia is a free-to-use site that makes money from advertising. We have a modified experience for viewers using ad blockers

Wikia is not accessible if you've made further modifications. Remove the custom ad blocker rule(s) and the page will load as expected.