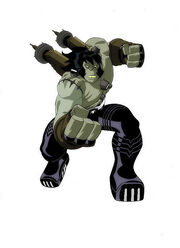 Vrees is a villain in the series Simien 10. He is one of Phobius's henchmen, and he helps him with the tech stuff. He appeared in the episodes "Phobia Factor", "Omnimorrphed" and "The fright before Christmas".
Powers
Shooting electricity
Super intelligence
Magnetic legs
Creating Portals
Super Strenght
Weaknesses
Species and Planet
Species:Transylvanian
Planet:Anur Transyl
Appearence
He looks like Doctor Victor, not like Benvicktor
Ad blocker interference detected!
Wikia is a free-to-use site that makes money from advertising. We have a modified experience for viewers using ad blockers

Wikia is not accessible if you've made further modifications. Remove the custom ad blocker rule(s) and the page will load as expected.